DANCE CALIENTE ANOUNCEMENTS FOR FEBRUARY 2018
Welcome to Dance Caliente!
Offering: Group and Private Social Ballroom and Latin Dance Lessons; Interactive Performances; Team Building workshops; Choreography; and Party Facilitation.
Specializing in: Argentine Tango, Foxtrot, Salsa, Swing/Lindy, Waltz and more.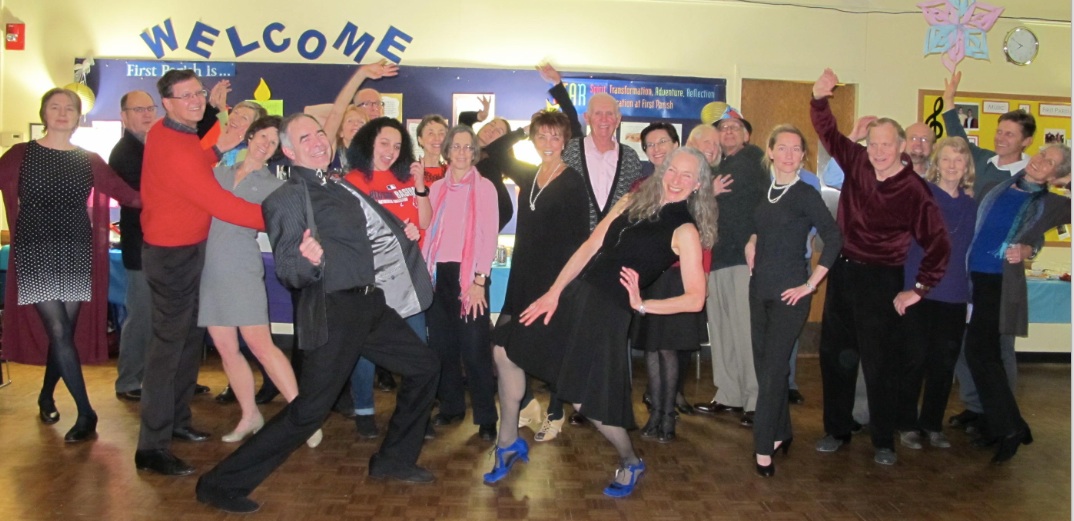 "Teaching Social Dance is our passion and we make it our top priority to encourage and put at ease each and every student we teach more...
DANCE CALIENTE'S 8-CLASS COURSES
STARTED WEDNESDAY JANUARY 17
Runs Jan. 17 – March 21 (no classes Feb. 14 and March 14)
Medford Location: Jody's School of Dance, 407 Rear Mystic Ave. #11A
STARTED MONDAY JANUARY 22
Runs Jan. 22 –April 9 (no classes Feb. 5, 19, March 5, and April 2 )
Arlington Location: First Parish Unitarian Universalist Church, 630 Massachusetts Ave.
WALTZ 6:30-7:45 PM
ARGENTINE TANGO 7:45PM
TRY OUT A DANCE CALIENTE CLASS FREE
Day and Time: Wednesdays from 7:00-8:30PM
Location: The Medford Library, 111 High Street, Medford, MA
Fee: Free, but call the Library at 781-395-7950 to reserve your place.
Note: All workshops are geared to beginners but also welcome those with some experience!
*These classes have been supported by The Friends of the Medford Public Library.
-------------------
TO REGISTER
(1) Send email to hermanhaase@comcast.net
Note: You can see our

FULL LIST

of Courses including upcoming Spring listings.
---------------------
LET'S GO OUT DANCING TOGETHER
'GET OUT AND DANCE (CALIENTE) CLUB' members have the opportunity, once a month, to go out dancing with Raul and Eileen, owners of Dance Caliente. Venues vary each month with an emphasis on either Latin, Swing, Ballroom or Argentine Tango. There's nothing like dancing in the arms of friends!
Coming up: February 24 - Swing in Cambridge. Contact hermanhaase@comcast.net for details.
Note: There is a small fee to Dance Caliente as well as the venue fee. Additional Info.p
---------------------
COME PARTY WITH DANCE CALIENTE, SUNDAY AFTERNOON, MARCH 18, 2018!
We welcome all, beginner to experienced! Music DJ'd by us includes Latin, Swing, Ballroom and Argentine Tango and we are always open for requests. And it does not matter what style you dance, we encourage all. This year we are providing you with early hours to dance, 2:30 - 5:30PM on a Sunday. Home baked cookies, coffee and tea, and lots of opportunities to dance with friends, new friends and yours truly, Eileen and Raul, owners of Dance Caliente
Suggested Fee: $10. (Free for presently registered Dance Caliente Students).
Arlington Location: First Parish Unitarian Universalist Church, 630 Massachusetts Ave.
------------------
THINK DANCE CALIENTE FOR YOUR NEXT EVENT!
Team building activities

Wedding dance preparations

Celebration entertainment

Workshops designed for specific age groups

Choreography
---------------------
INTERACTIVE SOCIAL DANCE PERFORMANCES




Dancing through the Decades with Dance Caliente is a not-to-be-missed Interactive Ballroom Dance Performance designed to engage, inspire and entertain a Senior Audience. Eileen Herman-Haase and Raul Nieves, owners of Dance Caliente, transport their audiences through time with heart throbbing theatrical ballroom dancing, dazzling period costumes, amusing stories, nostalgic music and lots of audience participation. At least six uplifting dances (i.e. the Waltz, Peabody, Charleston, Castle Walk, Swing, Foxtrot, Polka, Argentine Tango, Rumba, Cha and Salsa) are performed during a 1 to 1 1/2 hour show.

Dance Caliente's Children's Latin Dance Workshop, immerses students, in grades K-3, in a Latin Cultural experience of inspiring professional dance performances along with energetic and age appropriate movement and music activities. Students are captivated with animal imagery, challenged with physical games and become more aware of geography and many cultures through humorous stories. In just one hour, up to 100 children dance Merengue, Cumbia, Argentine Tango and Salsa.
-------------------
MORE CLASSES WITH EILEEN AND RAUL

Raul, teaches Zumba on Thursdays at 5:30pm for the Lexington Boston Sports Club. His expertise in Latin Jazz and Swing along with his anything goes Theatrical Style creates a sensational workout. In addition, Raul teaches Mat Pilates on Saturdays at 8:30am for the Wellesley Boston Sport Club. He is also available for Mat Pilates private / group lessons. And if looking for private social dance lessons, especially Salsa, look no further.

Eileen is available for private ballroom and latin dance lessons for wedding preparations and other special events as well as for students who prefer a class designed to match their learning style and goals. She also provides lessons and workshops in musical theatre and jazz dance as well as stretch and alignment.
--------------------